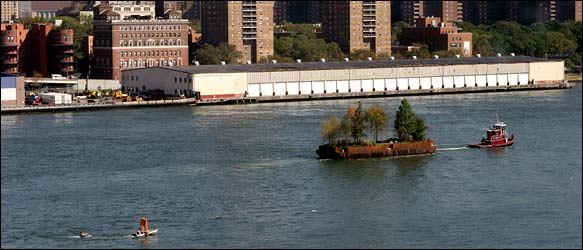 Last week (September 17 to 25, from 8 am to 8 pm every day) there was a Floating Island on a tugboat circling Manhattan for all to see. The original concept was dreamt up by Robert Smithson, best know for another of his 'Earthworks'; Spiral Jetty from 1970. This exhibit was put on by a New York-based arts organization that puts on public art projects, since Smithson died in 1973.
The Floating Island is a project that involves a 30-x-90-foot barge, landscaped with earth, rocks, and native trees and shrubs that will circumnavigate Manhattan. The fabricated "island," towed by a small tugboat, will be on view two weekends in September, visible to millions of residents, commuters, and visitors along the Hudson and East Rivers.
Here's the full story. Anyway, that's cool enough, but then some students tailed the barge in a speedboat with a tiny replica of one of The Gates, Christo's Central Park sculpture from earlier this year. The picture above captures the action. Apparently it was supposed to point out how stupid they thought The Gates project was, but it would have been a better story if it were just "fake gates chases fake park down the river". Also, I've come across a new online resource for Christo's work, the site Artsy has a paged devoted to Christo's work, with examples from 1950s, to working to "… complete unrealized projects such as Over The River, a miles-long stretch of fabric that would function as a canopy over the Arkansas River". Lots of coverage of other 'contemporary' artists on their site too, seems like a great resource.